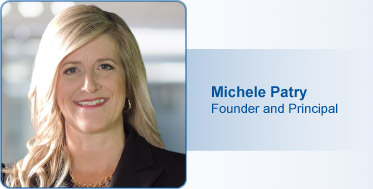 Michele Patry is a seasoned leadership and learning development specialist with over 20 years experience creating, implementing and directing learning programs, departments and professionals for national and entrepreneurial start-ups. Michele is driven by her passion to engage individuals and teams in reaching towards their potential and ultimately towards experiencing the richness that work-life has to offer. Her focus is on leadership and learning practices that engage leaders' hearts and minds, fosters an enduring and positive culture and which supports both individual and organizational performance and growth.
Since founding Innovative Facilitation in 2002, Michele has shared her vast business, people leadership and organizational learning experience with national and global organizations in the telecommunications, pharmaceutical, gaming, hospitality, research and high-tech industries and federal government agencies. Her mission is to align, develop and facilitate leadership and innovation programs, boost the quality of career and performance management practices, provide executive coaching and create reinforcement programs that support individuals and organizations to better their results.
At the core of Michele's approach is the concept of "entelechy"- the actualizing of one's potential. Michele believes in the possibility of living fully while at work through thought-provoking conversations, shared risk taking, experiencing and celebrating success, learning from failure, and consciousness of choice. By keeping it practical and relevant, Michele facilitates change in mindset and behaviour which ultimately enhances performance.
Michele holds a Masters of Administration from the University of Ottawa, a B.A. in Psychology, and a B.P.H.E. from Queens University and chaired the Board of the North American Simulation and Gaming Association.  Michele is a certified practitioner and facilitator in Human Synergistics, The Work Itself, Innovation Styles, Interaction Associates programs and assessment tools.