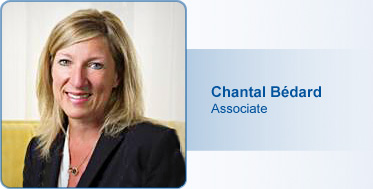 Chantal Bédard, Associate at Innovative Facilitation, is driven by the belief that there is a world of possibilities for those who deliberately take action to unleash their potential. With over 20 years in leadership roles, including senior strategic and operational roles, Chantal led the transformation of the learning culture as Senior Director of Talent Development at Bell Mobility. She's also created the onboarding experience which has fast-tracked sales results of new employees. In her role as Director of Market Research and Business Development, she contributed to paramount business decisions in a wide variety of large, medium and small businesses.
Chantal is recognized for being passionate, pro-active, organized and efficient in implementing and sustaining sales and coaching practices in organizations to the point that they become part of the day-to-day language. As a Certified Business Coach and learning development professional, Chantal empowers leaders to take action to improve their performance and professional satisfaction through successfully transitioning into new roles, enhancing clarity over their action plans to achieve business objectives, renewing self-confidence, creating and refining business plans, finding work-life balance or enhancing how they support their teams. Her natural ability to work with people and teams continues to drive those she works with to achieve enhanced levels of personal and professional success.
Chantal holds a Bachelor of Business Administration from the University of Sherbrooke and is a Certified Business Coach from the International Coaching Federation. She is also a practitioner in the psychometric assessment Nova Profile (based on DISC). Chantal is bilingual.