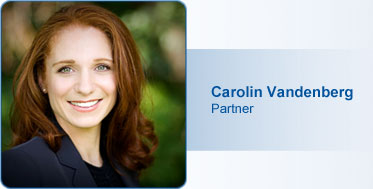 Carolin Vandenberg, Partner and a Certified Executive Coach with Innovative Facilitation, brings over 20 years of strategic and operational experience within global health science and technology organizations. Carolin is an accomplished professional with a collaborative and results-driven approach to developing products/services from "concept to execution" with cross-functional teams and business partners in Canada, U.S.A., Australia, Europe, Mexico and Asia.
Carolin's passion to inspire leaders and teams to actualize their full potential led her to join Innovative Facilitation as a Partner in 2008. As a leadership practitioner and Executive Coach, Carolin is firmly grounded in the complexities of her clients' business environment and creates holistic and pragmatic practices that draws upon her belief that, "we lead from who we are". Her insightful perspective, influential voice and dynamic offerings have transformed hundreds of professionals and their teams to extend their leadership impact, to increase their contribution in ways that are meaningful to them and to the business, and to maximize their team's effectiveness to enrich the culture of their organization.
Carolin holds a B.A. Industrial Relations from McGill University and is a Certified Integral Master CoachTM from Integral Coaching Canada. Carolin is a certified practitioner and facilitator in Human Synergistics, The Work Itself and Interaction Associates programs and assessment tools and is a contributing member of the Human Capital Executive Research Board.